EverDerm Laser & Beauty Clinic
EverDerm Laser & Beauty Clinic is dedicated to serving beauty-seeking guests with the most advanced technology machines available in the field of medical aesthetics and with exceptional expertise. Although EverDerm gained recognition in 2019 as the specialist in laser hair removal, its repertoire has expanded over the years, including unique facial, body and aesthetic treatments.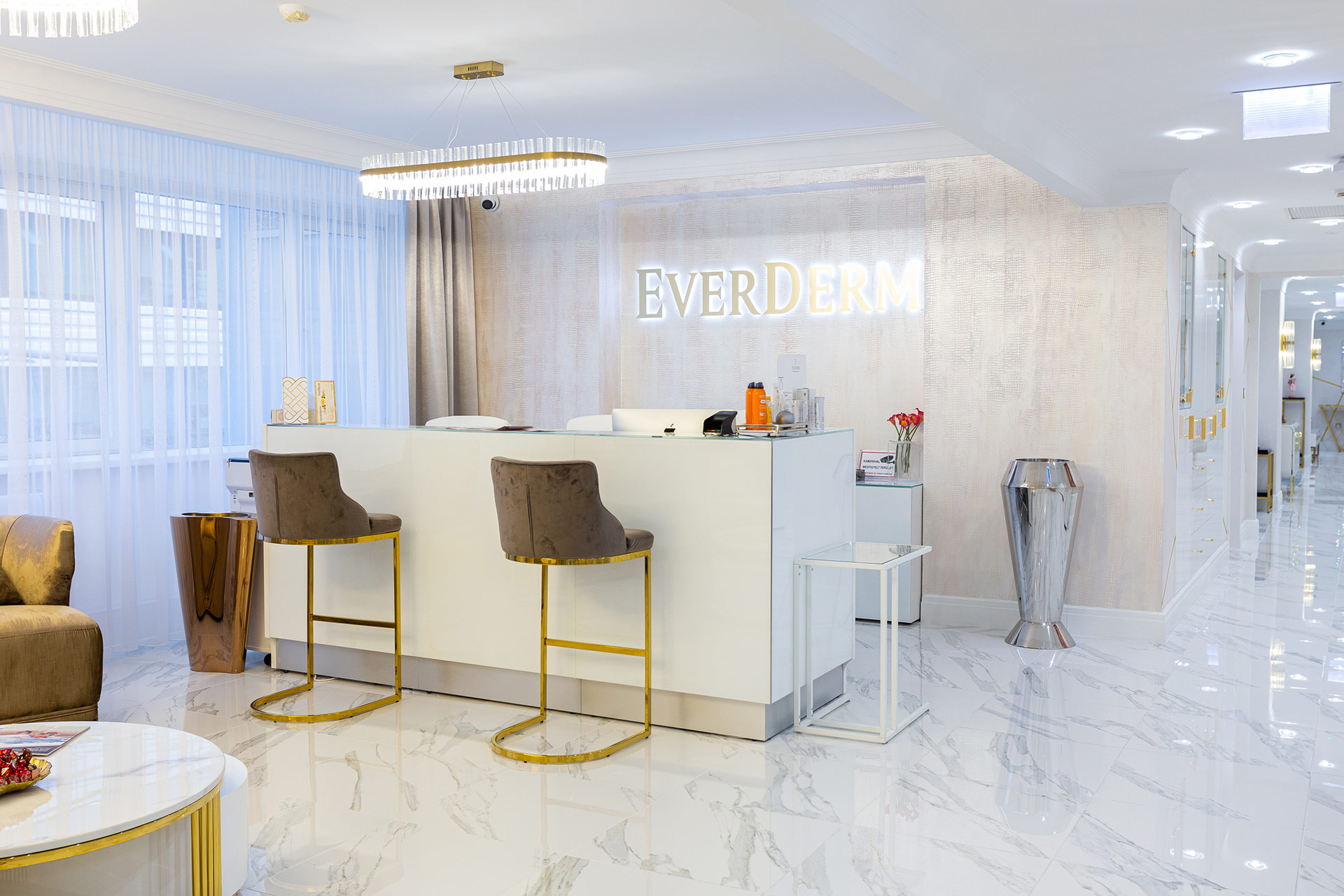 DISCOVER THE EVERDERM EXPERIENCE!
We do believe that it is possible to establish an aesthetic clinic where the guests truly come first, alongside high-level expertise and technology. We provide honest answers to our guests' questions regarding treatments, expected results, and possible side effects. Our aesthetic professionals treat every guest as a partner, ensuring a collaborative approach.
Slamovits-Horváth Beáta, the visionary and CEO of EverDerm Laser & Beauty Clinic, dedicates her everyday life to beauty, dermatology, and women's beauty care. Sophistication and elegance are integral parts of her daily routine as she strives to always deliver the utmost quality. For her, beauty is the unique harmony between the inner and outer self, which catches everyone's attention. She firmly believes that the only path to success is doing what one truly loves.
Customer-centricity and expertise are the primary focus of our clinic. The combination of these elements forms the foundation of the EverDerm Experience, which contributes every day to ensuring that our clients leave the clinic happy and satisfied.
The secret behind Hungarian celebrities' timeless beauty!
It's no wonder that Hungarian celebrities choose EverDerm Clinic, as it offers many of the favorite treatments of Hollywood stars that are only available at our clinic in Hungary!
Those who visited our clinic said this about us:
HydraFacial MD® – Hollywood's favourite facial treatment
The best skin of your life starts here! The secret of the HydraFacial MD® treatment lies in its unique, patented Vortex vacuum technology. Using a special treatment head, a double liquid jet is spiraled through the skin, removing dead skin cells and the tiniest impurities from deep within the pores with the help of adjustable vacuum pressure. The cleansing effect is enhanced by a mixture of glycolic and salicylic acids. Following the cleansing, the power of the vortex within the treatment head is used to deliver collagen-inducing glycopeptide components, hyaluronic acid, vitamins and antioxidants deep into the skin. The result is brilliantly clean, refreshed, hydrated skin with reduced wrinkles and pigmentation.
Like to Buy!
Intraceuticals – oxygen therapy
The 3-step hyaluronic layering with the power of oxygen! Experience a high-concentration hydrating treatment with 100% pure oxygen. This innovative procedure combines the benefits of refined hyperbaric oxygen with cosmetic skincare ingredients like hyaluronic acid. Through the layering process, three different sizes of hyaluronic acid create optimal hydrodynamics for the skin. Intraceuticals oxygen therapy is an excellent way to improve skin structure. During this facial treatment, we work with four product lines. All four protocols can perfectly complement any skin rejuvenation, including laser treatments. Moreover, thanks to the exceptional hydration of the skin, not only does the effectiveness of the treatments multiply, but the healing time also significantly accelerates. Visible results can be seen after the first treatment, but the real, long-term hydration can be achieved with a series of multiple sessions, which can be supported by a suitable at-home skincare routine. This facial treatment is safe to use during pregnancy and breastfeeding!
Like to Buy!
Emsculpt Neo – muscle building and fat burning
EMSCULPT NEO has applicators that emit 2 energies at the same time: synchronized RF for fat reduction and HIFEM+ for muscle toning. As a result of radiofrequency heat, deep muscles are heated and reach a fat-burning temperature within 4 minutes, while incredibly strong, supramaximal contractions stimulate the muscles. These two technologies work together through a single applicator, making a series of 4 treatments lasting 30 minutes each capable of delivering breakthrough results in body shaping. The outcome? More fat reduction and muscle growth than with any single gold-standard product in less time, non-invasively. On average, clinical studies showed a 30% reduction in fat and a muscle increase of 25%.
Like to Buy!
French elegance embodies unearthly beauty and sophistication. It represents a style that perfectly combines classic elegance with modern trends. It is characterized by refined lines, precise details, and sophisticated textures, which together create a captivating and alluring appearance, highlighting individuality and beauty.
At our clinic currently, we offer three types of procedure options based on the materials used. The experts at EverDerm will help you find the most suitable medical aesthetic treatment to refresh your face. The goal of medical aesthetic treatments is to restore perfect facial symmetry, smooth contours, replenish lost volume, increase skin firmness and elasticity and lift sagging tissues.
Botulinum toxin procedures:
Botulinum toxin treatments are among the most well-known and non-surgical, painless wrinkle-reducing procedures. Due to the mechanism of action of botulinum toxin, it is ideal for treating dynamic wrinkles (such as vertical lines between the eyebrows, horizontal lines on the forehead, and crow's feet around the eyes), and it can also be used for hyperhidrosis treatment (excessive sweating). Botulinum toxin does not halt the aging process, and its effects typically last around 3 months on average.
Hyaluronic acid fillers:
Hyaluronic acid is a naturally occurring substance in our bodies that has unique moisture-retaining properties, ensuring the softness and elasticity of our skin. That's why hyaluronic acid is a key ingredient in various skincare products. Additionally, this substance is perfectly suitable for facial contouring purposes. With these minimally invasive medical aesthetic procedures, we can reshape our facial features and restore the youthfulness of our facial contours and skin.
Deep hydration treatments:
Deep hydration treatments are not filler or facial contouring procedures but rather advanced versions of traditional needle mesotherapy. During these treatments, collagen and/or hyaluronic acid fillers can be used to support a youthful appearance and hydrated skin. These procedures focus on improving the condition of the skin, helping it become more beautiful and youthful. This type of treatment does not fill the skin but rather regenerates and hydrates it.
Everything you need in one place
At EverDerm Clinic, we provide our clients with the latest, tested and proven technologies in the field of medical aesthetics, along with exceptional expertise. Our goal is to cater to those who aspire to enhance their beauty, offering them access to the most advanced equipment and a team of highly skilled professionals. From a wide range of facial therapies – like Plasmage® eyelid surgery, mesotherapy and RF microneedling – to irresistible aesthetic and body treatments (Slim Drone, BTL Exilis and Emtone), EverDerm Laser & Beauty Clinic is your ultimate gateway to immediate and transformative beauty.